Ingredients
2 Tbs Canola Oil
2 Tbs ground beef
1 large, sweet onion
1 ½ tsp kosher or sea salt
5 garlic cloves, minced
1 large green bell pepper
1 large red bell pepper
1 28oz can diced tomatoes
1 19oz can of red kidney beans
1 19oz can black beans
1 cup beef broth or beer
½ cup tomato paste
½ bottle of Front Street Heat or Fire
½ of a cinnamon stick
2 tsp of each, ground cumin, onion powder, garlic powder, black pepper, hot chili powder and dried oregano
    1 tsp of each, cocoa powder and ground coriander seed
Instructions
Dice onions and bell peppers & mince garlic

Open all cans, drain and rinse the beans.

Measure and combine all spices into one bowl.

Place a large pot over high heat until hot then add canola oil.

Place ground beef into the post and brown. While browning use a spoon or potato masher to break the beef into fine pieces.

When cooked, remove the beef from pot and drain grease. Set beef aside temporarily.

Return pot to stove and get hot again, add remaining canola oil.

Add onion and salt and cook until translucent (5-7 min)

Add garlic and bell peppers and continue to cook (3-4 min)

Add diced tomato, beans, beef broth, tomato paste, Front Street Heat hot sauce and all the spices along with the reserve ground beef.

Stir all together and let come to a simmer.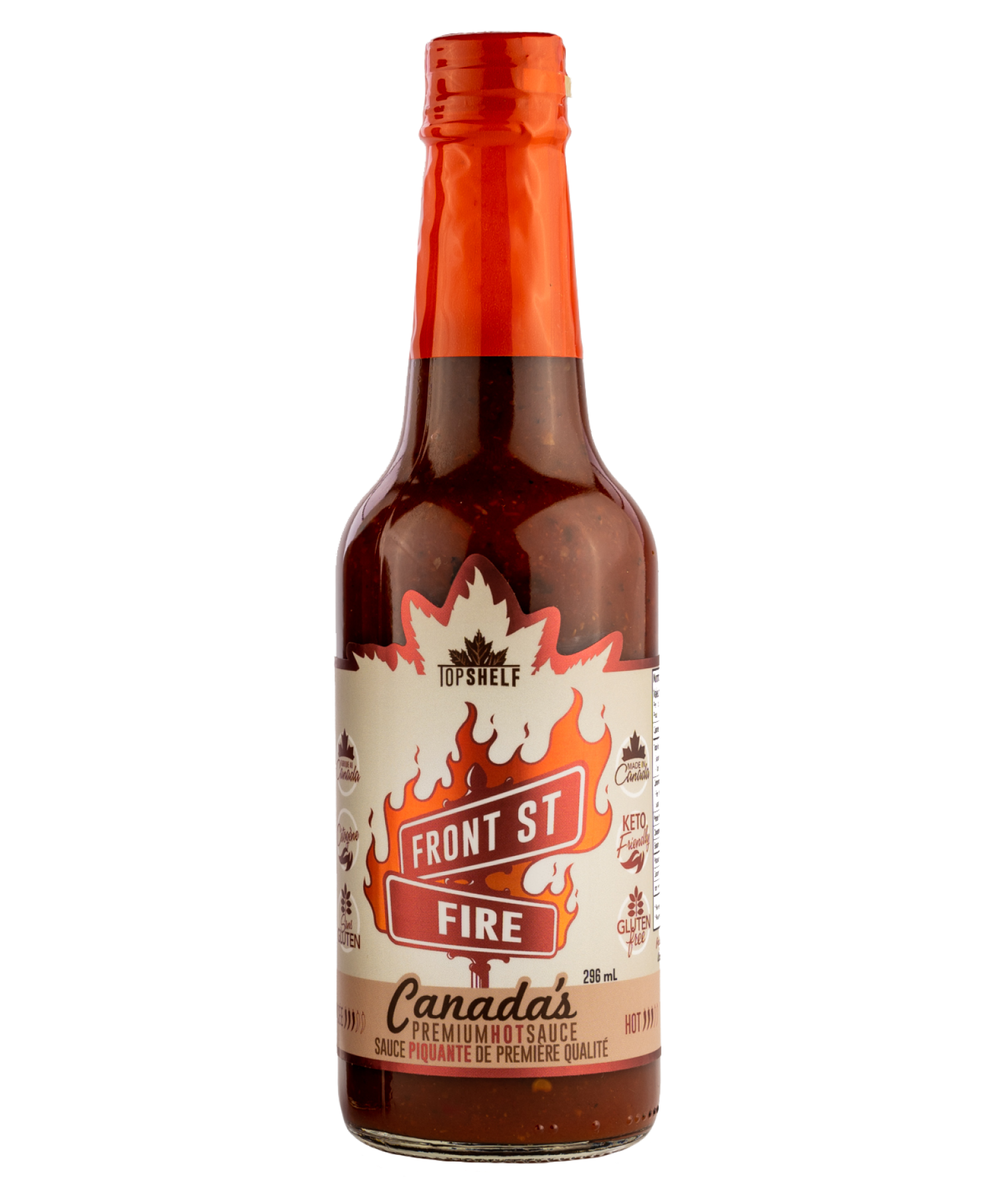 Made with
Front Street FIRE (Medium)
Front Street fire With the same premium build and balanced taste we love with Front Street Heat, we've just taken what you already loved, and set it on FIRE with this medium heat version of Canada's Premium Hot Sauce.