Ingredients 
8 bell peppers 

1lb ground beef 

2 cups each of brown rice, chicken stock, corn kernels and black beans

1 packet taco seasoning 

10 oz diced tomatoes 

1/2 medium onion, diced 

3 cloves garlic, minced

2 oz green chiles, diced 

4 oz Front Street Heat

1 tsp each of Cumin, Chili powder, Garlic powder and Onion powder

1/2 tsp salt  

8 oz Aged white cheddar cheese 
Instructions 
Pre-heat over to 350 degrees

Cut tops off peppers and remove the core and seeds

Place on place, cover with a damp paper towel and microwave on high for 3 min. Set aside.

In a large pot add chicken stock and bring to a boil. Add rice and cover. Remove from heat                                                                  and let sit to cook

Brown the meat in a separate pan then drain grease. Add taco seasoning, corn, black beans, diced tomatoes, onion, garlic, seasonings, green chili's and Front Street Heat. Mix together.

Add cooked rice and half of the cheese.

On a baking sheet stand peppers upright and scoop mixture into them spreading evenly. 

Cover pan with foil and bake for 30 minutes. Remove foil and top with remaining cheese and return to oven for 5-10 minutes. Garnish with Cilantro (optional). Enjoy!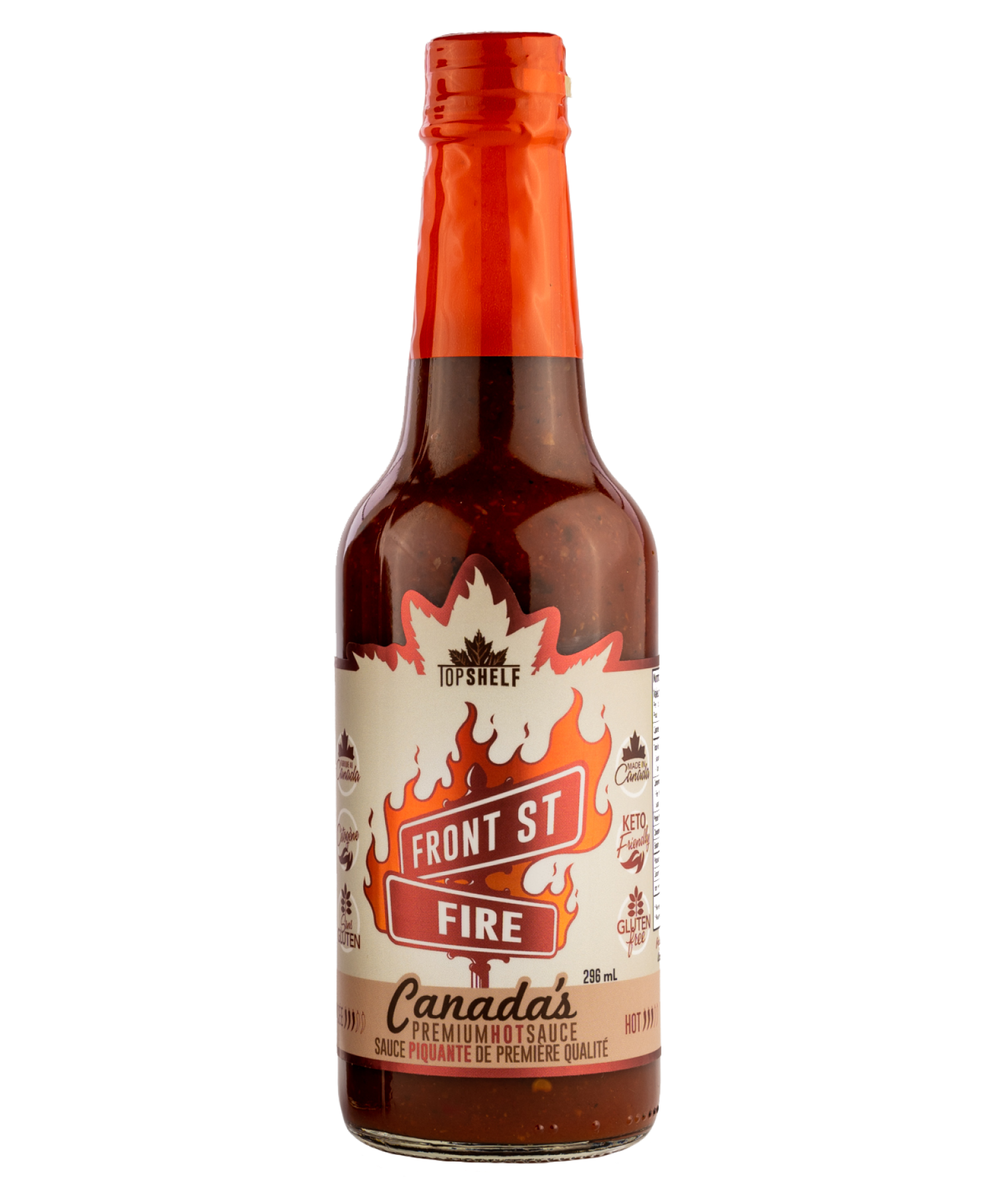 Made with
Front Street FIRE (Medium)
Front Street fire With the same premium build and balanced taste we love with Front Street Heat, we've just taken what you already loved, and set it on FIRE with this medium heat version of Canada's Premium Hot Sauce.