Ingredients
10 oz boneless chicken breasts

2 1/4 tbsp Front Street Heat

1 1/2 tsp cayenne pepper

2 cups elbow noodles

2 cups milk

¼ cup butter

¼ cup all-purpose flour

3 cups shredded cheese

1 tsp dry mustard powder

½ tsp garlic powder

½ tsp onion powder

2 cups rough chopped spinach

½ cup panko bread crumbs

Salt & pepper, to taste
Instructions
Preheat oven to 400°F. Line baking sheet with parchment paper.

Toss chicken in 1 tsp cayenne pepper and 2 tbsp Front Street Heat and place on baking sheet. Bake for 25 minutes, turning half way. 

Remove chicken and let cool for 10 minutes then shred or chop.

In a large pot, bring 6 cups of water (add salt) to a boil. 

While waiting for the water to boil, heat butter in a medium saucepan. Add in flour, ½ tsp cayenne pepper, dry mustard, garlic & onion powder. Stir consistently. 

Cook for 1-2 minutes on low then slowly whisk in milk until smooth. Simmer on low and stir occasionally until thickened. Remove from heat and add ¼ cup Front Street Heat and 2 cups of cheese of choice (Cheddar, Jalepeno Havarti, Pepper jack & smoked gouda are all excellent choices). Mix well.

Add noodles to boiling water and cook pasta. To make al dente, cook per package instructions, less 1 minute. Drain and stir into sauce mixture.

Add in chicken and spinach and cook on low for 3-4 minutes. Stir occasionally.

Add mixture into a baking dish and top with the remainder of cheese then sprinkle with Panko. 

Bake in oven for 8-12 minutes, until lightly browned. Enjoy!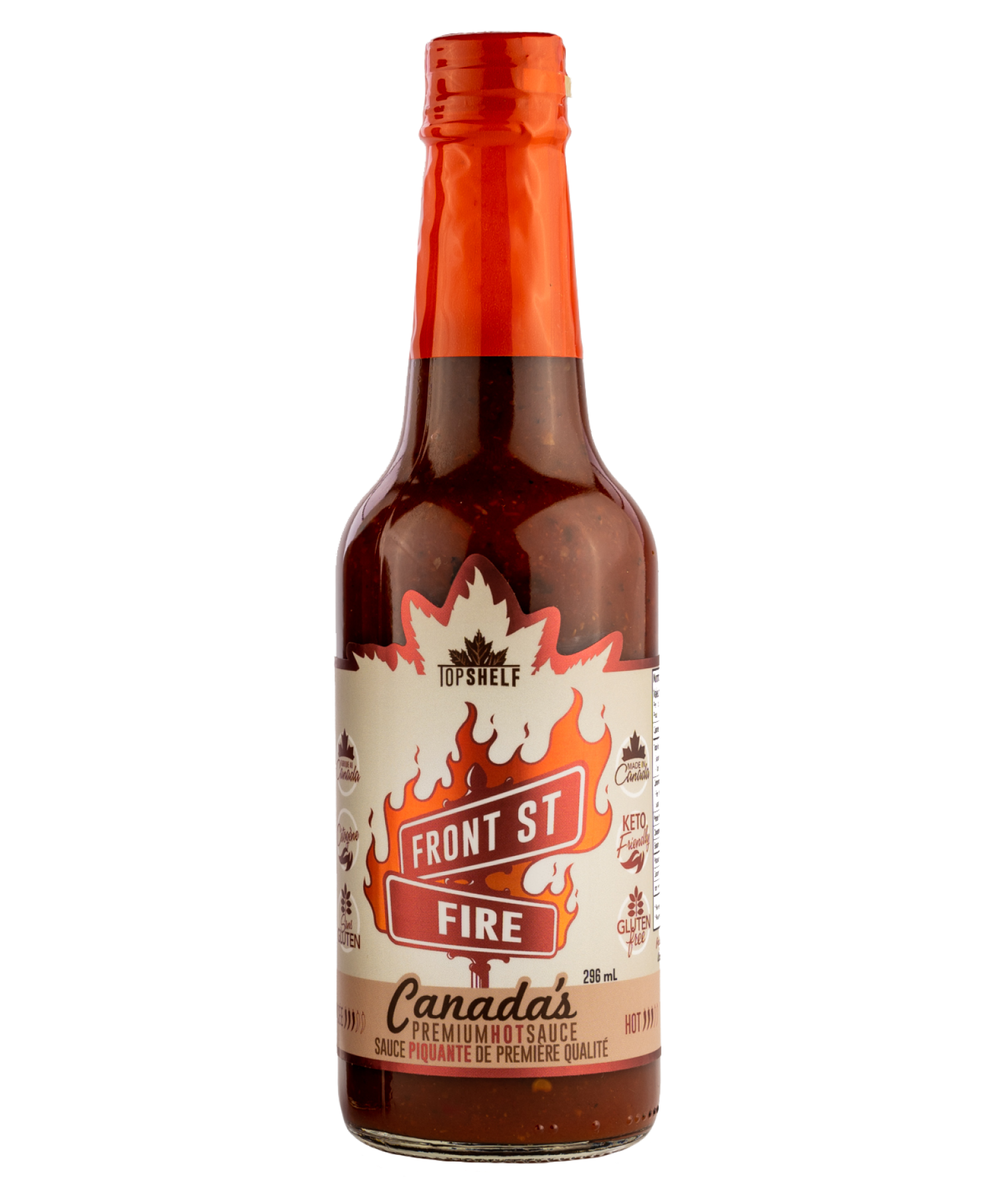 Made with
Front Street FIRE (Medium)
Front Street fire With the same premium build and balanced taste we love with Front Street Heat, we've just taken what you already loved, and set it on FIRE with this medium heat version of Canada's Premium Hot Sauce.